These are my thoughts and observations (and purely my opinion!) about female characters anywhere, though particularly in anime and manga  
I have a lot of examples from Fairy Tale because I'm currently reading it and the character Lucy, is a good example of a misused female character.  If it needs to be said, of course, not every anime and manga has these problems and even Fairy Tale does not make all these mistakes I will be listing.  These are just observations and generalities and they express my overall reasoning for being uninterested in female protagonists.  
I'd also like to add that many of the things on this list are not just limited to Anime and Manga.  Look at western comic book art and you'll see the same things.  If you'd like examples, check out Escher Girls blog
eschergirls.tumblr.com/
 Howevah!  I'm focusing on anime and manga in this!  I'm aware that all the stories I am mentioning are part of Shogun Manga (I think) and their main audience is horny teenage boys.  Still, the stories are compelling if not tainted with fan service so that's why I read them.
1)
Sexual Harassment is cute
- Just to say it, I almost never have a problem with a female character being sexually harassed or assaulted.  It is a reality for women and something that can realistically happen to fictional female characters in their story.    (Though sometimes it seems that writers don't understand that there are other dangers women can be exposed to.) What bothers me most is the casual sexual harassment a female character may receive from her friends or coworkers and how it is justified.  Friends or coworkers may make remarks about a female character's attractiveness, her body, her private sex life or sometimes somebody will transform into her and undress, and it's okay because 'we're all friends here."  Any reaction from the female character receives "oh cute!  She is blushing."  She apparently is not humiliated or offended, she is just embarrassed because she is so shy and that makes her cute.  
To add some context to this scene, Lucy and her team member are practicing transforming and her team member successfully transforms into her.  Lol, her reaction is cute and funny isn't it?  Also, no I don't have a problem with female nudity, I just have a problem with a story pretending that women are just shy and modest creatures and they don't really mean "no."  If anyone is aware of Naruto, that kid has a habit of transforming into a naked woman to distract people.  The same funny reaction is reached and to me it is okay because the woman Naruto is transforming into is not real within the story.  Naruto is just transforming into a woman version of himself, but he is not violating another's privacy.
And just to be clear, I am less bothered by sexual behavior than how the woman reacts to it.  I think it is okay to have funny womanizers in the story for example.  But the story shouldn't make harassing female characters a norm for all the characters and it shouldn't pretend that a woman saying "no" is a funny reaction.
The worst cases is when something as serious as sexual assault is taken as an opportunity for fan service itself.  It might make sense for the other characters to not recognize that Nami (female character in video) is in trouble.  After all, they can't see the man assaulting her.  However, it was the writers' choice to interrupt a tense and scary moment with snap shots of Nami's body.  It was also their choice to defuse the situation with a sexy pan shot of her afterwards.
2)
Guys get cool clothing, women get "sexeh" clothing
- It is very difficult to strike a balance between a character looking cool and a character having practical clothing.  Generally, all characters are wearing clothing which is not practical for their job or situation but that's okay.  An artist or writer needs that room to make a character unique and distinct from other characters within the story.  Therefore, I see no argument in the complaint that most of women's clothing is impractical.  While it is true, it is not the heart of the problem being that artist and writers tend to put women in "sexy" clothing rather than cool clothing.  I'll just give an example.
"Sexy" Clothing, along with that stupid ass/boob pose.
Also may I point out that the translation is about her breast, hip and ass size.
Cool Clothing, along with a cool pose.
3)
Any excuse to change an outfit
- Count the number of times a female character changes her outfit.  Like I said earlier, clothing is meant to distinguish a character.  While most shows seem to change their character's outfits maybe every season, female characters could be changing their cloths nearly every episode.  Often the fact that a female character is wearing new cloths diverts attention away from the plot.  Sometimes, in manga, an entire page will be devoted to showing off her new outfit and other characters will address it as well.  Doing this only makes the character look like a prop.
4)
Women lose clothing in a sexy way
- Women in stories seem to have weakest clothing.  Not only is it made to look sexy, it apparently rips/burns/shrinks/distorts etc very easily.  Surprisingly, it always comes off in a way to reveal more of those sexy tits.   Male characters may have their outfit ruffled but is it ever removed enough to show that sexy dick?  Men lose their clothing in expression of power and rage.  Women lose their clothing in haphazard, seemingly strategical tearing.
5)
Women never get punched
- Ever noticed that if there is one woman on a bad team and one woman on a good team, chances are those women will end up fighting?  It is an effort to avoid a man and a woman fighting because, if the character are of equal power, the man is going to punch the woman.  Anything reflecting domestic violence is a serious taboo, to the point where it must be avoided in our fiction.  Though women never getting punched or physically beaten is distracting to a fight.  It doesn't make the fight seem real or that the character is in any danger.  When two female characters are on opposing teams, it just becomes painfully predictable who is going to fight.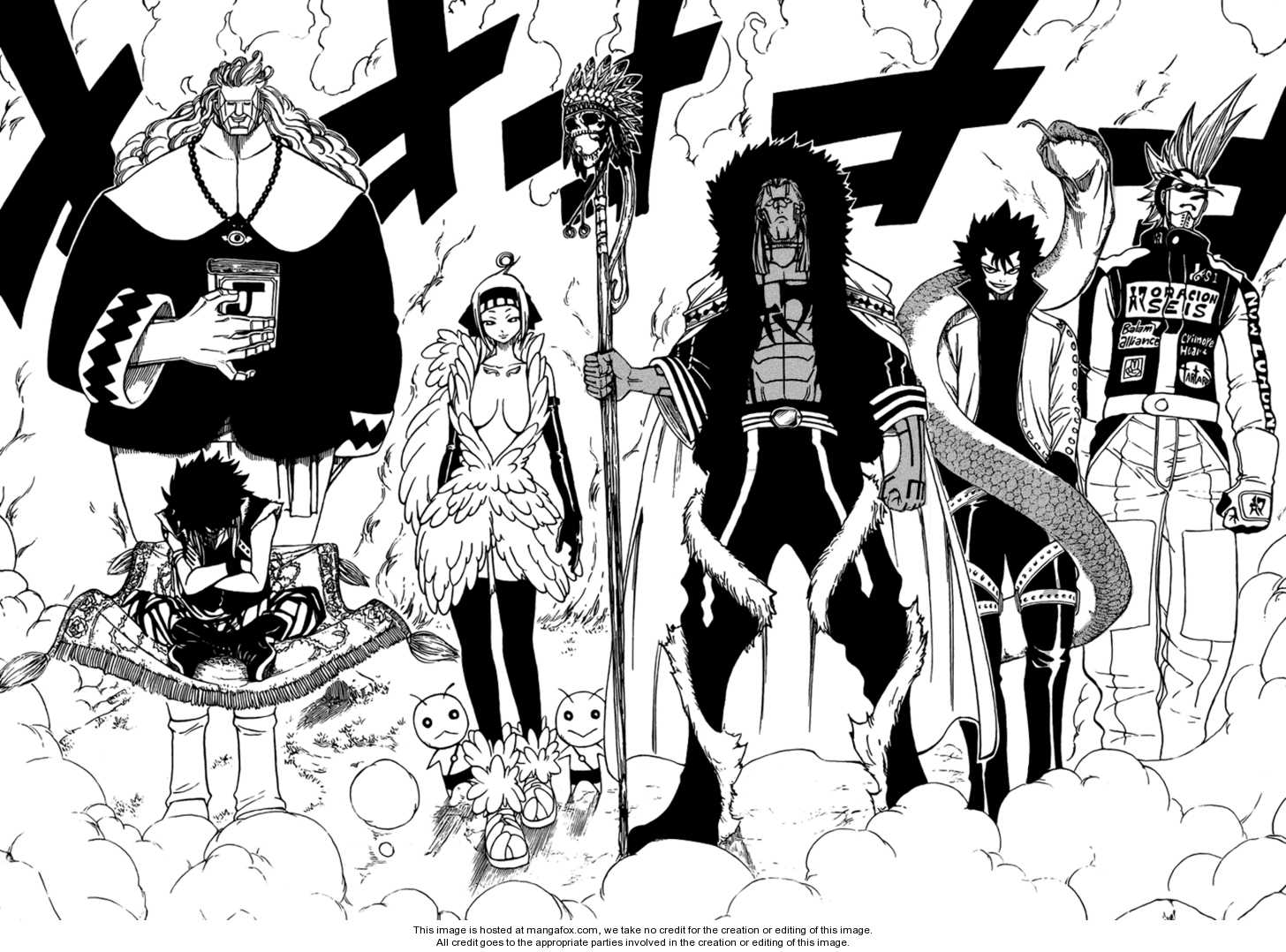 The bad team above vs the good team below.  Guess who Lucy will end up fighting.
(Fuck, there is another woman on the good team that I forget about  XD. The red head is Erza.  She is a better female protagonist but not ideal.  She too is also played for random fan service and when she transforms her armor she is less protected which somehow works.  Also, for a female lead which actually does take a more active role in fighting, she is surprisingly not punched very often.)
6)
Women are not powerful, they are just tools
- This is more difficult to explain but women in anime or manga tend to always be weaker than their male counterparts.  Either weaker physically or in perception of the situation.  But when a women becomes more powerful than her male counterparts, it generally tends to be in the context of "it happened spontaneously and she didn't work for it" or "she is unaware of her powerful abilities herself."  It generally offers an excuse for that female character to be kidnapped by the bad guys.  It makes more sense than just "lol, I kidnapped the princess because I'm EVIL!"  But does a female character having more power make her a strong female character?  No, it just makes her a tool.  If a character has power and is unable to use it for themselves, then they're a tool.  It opens up room for the female character to be saved by the heroic male lead.    It also sometimes gives reason for the female character to fall in love with the male lead.  It's boring and overused.  
The best examples I can think of is Orihime from Bleach.  As I am aware, she is kidnapped because the bad guys realize she has a powerful ability to "reject" or basically turn back time.  (Please don't rip me to shreds if I get the details wrong XD)  Throughout the entire story, Orihime is a fairly weak character and offers very little in fighting.  Suddenly, as a new season begins she's MOTHERFUCKIN POWERFAAHHH!  She doesn't know herself, is helpless and kidnapped to be saved!  yay!
7)
One size fits all
- Male characters come in many shapes and sizes.  Why do nearly all women come in the same sexy supermodel size?  No, it is not because they are athletic.  This is an example of a real athletic woman.
They have muscle, they sweat and they don't have cute looks on their faces.  These women would convince me that they run, jump, lift and punch people as a fighter in an anime story.  Generally women like Lucy above convince me that she at most, diets and does basic aerobics.  Not even that the character has to be in shape to convince me that they are a fighter.  Many male characters are overweight or somehow have odd body proportions but are good fighters.  
Female cast above vs the male cast below.  ( couldn't find an image with just the male cast.)  The main female cast all have the same body type and they also have the same heart shaped face type.  They are practically identical with the only main differences being hair color, eye color and accessories.  If the entire female cast can easily be placed in a dress up game because you only need one body type, I think that's a problem.  The male cast below on the other hand, has a variety of body types and many of those characters have distinctive facial features.
Simply put, why can't female characters also come in a range of sizes?
A good character is one you can relate to but it is particularly hard to relate to female characters.  It's a good reason why I am hesitate to read or watch stories with a female lead.  Writers don't know how to write women, normally focusing too much on their gender and female stereotypes, or they use them as a sex prop.  Just...thank god we have Korra now.  If there is any good example of how to write a good female lead, it's her.  (Yea I know she is not from "real" anime!)